Morning Bites
PORRIDGE $5
add poached pears $1.25/ add walnuts $.75 *served until noon*
a wholesome blend of steel-cut and rolled oats served with cinnamon, raisins, brown sugar, & your choice of steamed milk
ALMOND-COCONUT GRANOLA $5
add poached pears $1.25/ sub yogurt, add $1.50
toasty, nutty & homemade. served with your choice of milk and honey if desired.
CAFE EGGS $4
add organic cheddar $1.50
two eggs scrambled by steam garnished with fresh herbs
BAKED EGGS $7.5
roasted spaghetti squash, butternut-sage cream & two eggs baked with cheddar cheese
wheat-free. takes 15 minutes to bake
~NO SUBSTITUTIONS~ NO 1/2 ORDERS ~ KITCHEN CLOSES AT 6:00PM ~
We are dedicated to sourcing organic & locally grown ingredients.
Lunch
QUICHE $7
with side salad, add $4
seasonal veggies, eggs, & cheese in a flaky crust. takes 12 minutes to bake.
SOUP bowl $6 / cup $3.50
our wholesome daily offering is made using seasonal and locally sourced ingredients. Look at the board for today's flavor
SWEET POTATO HUMMUS $6
served with pinenuts, za'atar, winter spiced chile oil & toasted baguette
ROASTED PORTOBELLO MUSHROOM SANDWICH $9
add side salad $4
with romesco & caramelized onions on sourdough toasted with smoked provolone cheese
GRILLED CHEESE SANDWICH $7
add smoked ham $2
add side of sauerkraut $3.50 / add side salad $4
cheddar melted between buttery slices of sourdough
SPECIAL SALAD
see specials board
HOUSE SALAD $5
add feta & toasted sunflower seeds $1.50
mixed greens dressed with an herbal vinaigrette and topped with shaved carrots
LACINATO KALE & RED CABBAGE SALAD $5
with almonds, currants and a lemon, turmeric & tahini dressing
*dressing contains honey
Sides
TOAST $3.50
with peanut butter or cream cheese, add .50 / gluten-free bread, add $.50
two slices of local Feel Good artisan bread served with butter and herbal jelly or seasonal jam
SAUERKRAUT $3.50
house-fermented cabbage featuring a changing selection of root vegetables and seasonings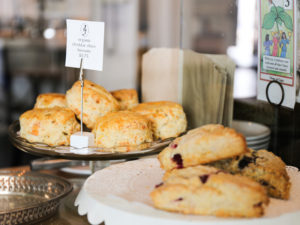 SCONE with DEVONSHIRE CREAM $3.75
a fresh-baked scone served with "melt in your mouth" devonshire cream
SOFT BOILED EGG 1 egg $2 / 2 eggs $3.50
an egg cooked to your liking and served in the shell