Morning Bites
see online ordering page for up to date offerings and prices
PORRIDGE 
*served until noon*
a wholesome blend of steel-cut and rolled oats served with cinnamon, brown sugar & your choice of steamed milk
ALMOND-COCONUT GRANOLA 
toasty, nutty & homemade. served with your choice of milk and honey if desired.
CAFE EGGS 
two eggs scrambled by steam garnished with fresh herbs
BAKED EGGS 
fresh veggies, cheese. see board for day's option.
wheat-free. takes 15 minutes to bake
~NO SUBSTITUTIONS~ NO 1/2 ORDERS ~ KITCHEN CLOSES AT 6:00PM ~
We are dedicated to sourcing organic & locally grown ingredients.
Lunch
QUICHE 
seasonal veggies, eggs, & cheese in a flaky crust. takes 12 minutes to bake.
SOUP 
our wholesome daily offering is made using seasonal and locally sourced ingredients. Look at the board for today's flavor
SWEET POTATO HUMMUS 
served with pinenuts, za'atar, winter spiced chile oil & toasted baguette
GRILLED CHEESE SANDWIC
cheddar melted between buttery slices of sourdough
AVOCADO TOAST 
organic avocado, hemp, sesame & poppy seeds, chili flakes, lemon zest, and cilantro on toasted sourdough
SPECIAL SALAD
see specials board
HOUSE SALAD 
mixed greens dressed with an herbal vinaigrette and topped with shaved carrots
LACINATO KALE & RED CABBAGE SALAD 
with almonds, currants and a lemon, turmeric & tahini dressing
*dressing contains honey
Sides
TOAST 
two slices of local artisan bread served with butter and herbal jelly or seasonal jam
SAUERKRAUT 
house-fermented cabbage featuring a changing selection of root vegetables and seasonings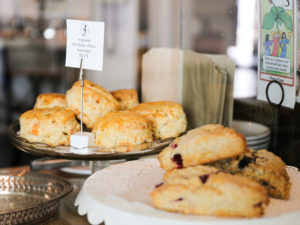 SCONE with DEVONSHIRE CREAM 
a fresh-baked scone served with "melt in your mouth" devonshire cream
SOFT BOILED EGG 
an egg cooked to your liking and served in the shell