Tea Lattes
CHAI LATTE (FT)
choose either black tea or rooibos, spiced with ginger, cinnamon & cardamom, steamed with milk and sweetened just right.
CHOCO-CHAI (FT)
our chai latte blended with rich, dark chocolate and topped with fresh whipped cream
MATCHA LATTE
stoneground green tea leaves are steamed with oatmilk for a creamy, dairy-free delight
TONIC LATTE
following ayurvedic traditions, fortifying & nourishing tonic herbs are steamed in cow, soy or oat milk and sweetened with honey
vitality—a rejuvenative & strengthening tonic
clarity—a brain tonic promoting focus & memory

Julie's Specialty Drinks
ginger-lemon brew
flower power punch
rosemary-mint green tea cooler
lavender lemonade
kombucha
kombucha power

Tea Infusions
We take pride in brewing your pot of tea to perfection. Choose from our wide variety of organic and Fair Trade teas and herbs from around the world. All of our teas are also available for sale in bulk from our self-service dispensary.
BLACK TEA
black lavender (FT)
black chai (FT)
china breakfast
darjeeling 2nd flush
earl grey (FT)
lapsang souchong
orange bliss (FT)
english breakfast (FT)
breakfast decaf
vanesheh pershian black
yunnan golden halo
OOLONG TEA
ruby oolong
PU-ERH TEA
wild tree pu-erh (FT)
ginger pu-erh
vanilla mint pu-erh
WHITE TEA
white peony
silver needle
white rose melange
GREEN TEA
genmaicha
gunpowder (FT)
houjicha
jade cloud
jasmine green (FT)
jasmine pearls
sencha (FT)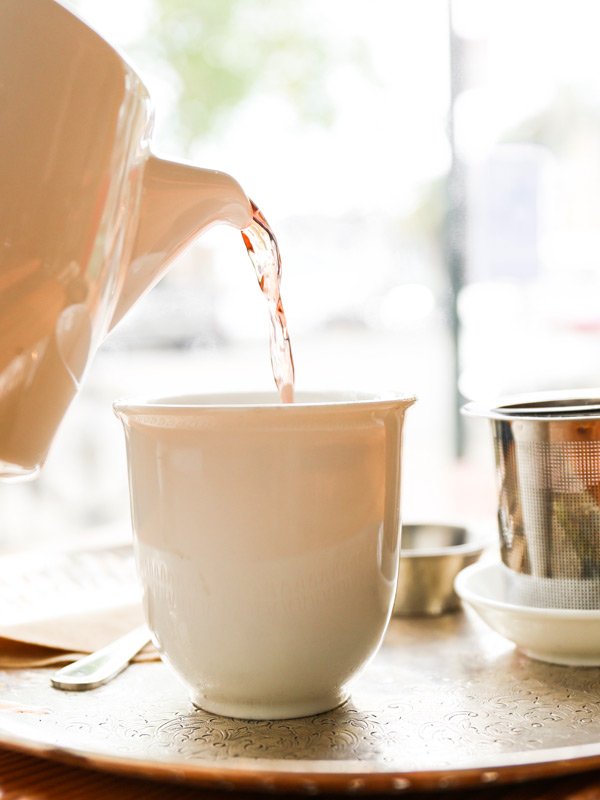 HERBAL TISANES
california mate
honey bush
flower power
minty
peace
rooibos
rooibos chai
rooty
sniffle
tulsi tonic
turmeric ginger
woman's herbal
TEA ON-THE-ROCKS
choose from one of our daily specials or choose from our list of teas for a custom brew

Coffee, Espresso & Chocolate
We use only the freshest, organic ingredients to create our delicious drinks. Look for our many fair trade (FT) offerings. All coffee drinks are available over ice

COFFEE
Our premium organic coffee is small batch roasted by Taylor Maid Farms. Whether you choose a single origin coffee French pressed to order or a drip brew of a custom blend, you will taste the difference of coffee grown, roasted and prepared with the care and pride of generations.
DRIP BREWED
our brew of the day
CAFE AU LAIT
drip brew coffee with steamed milk
FRENCH PRESSED COFFEE
your choice of a freshly ground coffee, brewed to order

CHOCOLATE
HOT DARK CHOCOLATE (FT)
the best cup of hot chocolate you'll ever try
MEXICAN HOT CHOCOLATE (FT)
cinnamon and chiles spice up hot chocolate in this traditional drink

ESPRESSO
All of our espresso drinks start with a double shot of espresso. We believe this makes for the richest blend of flavors in the cup.
CAPPUCCINO
espresso with steamed milk and a creamy froth
CAFFE LATTE
steamed milk flavored with rich espresso
CAFFE MACCHIATO
"espresso marked with milk"
CAFFE AMERICANO
espresso tamed with hot water
CAFFE MOCHA
a caffe latte intensified with chocolate and topped with fresh whipped cream
CAFFE CON PANNA
espresso capped with fresh whipped cream
SHOT-IN-THE-DARK
espresso amps up a cup of brewed coffee