MGH Discovered Art presents
PIONEERS & TRAILBLAZERS
celebrating the art of women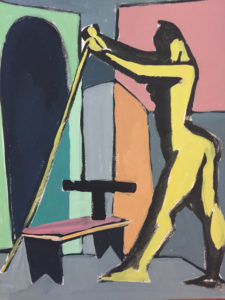 Show runs March 9-May 7 2018
Party: Friday, April 13 7-9pm
Women have been and continue to be integral to the institution of art, but despite being engaged with the art world in every way, many women artists have found opposition in the traditional narrative of art history. They have faced challenges due to gender biases, from finding difficulty in training to selling their work and gaining recognition.
Only a small sample of women found their way into the tales of the greatest artists. Even then, they were often described as unusually talented women who overcame the limitations of their gender in order to excel in what was believed to be a masculine field.
But beginning in the 1960s, with equal rights and feminist movements in full swing, there was a boom of women teaching and studying in art schools in the United States and Europe. These became sites of feminist activity, encouraging the representation of women in museums and galleries. This movement of women in the arts fostered a large body of theory and diverse artistic practice, redefining what was possible in the studio and beyond and paving the way for many women artists practicing today.
There are still many artists ascribed to obscurity only because they happen to be female.
To change an existing structure it's important to bring awareness to women that have been overlooked in the past and reevaluate a history that has been written by men.
We are proud to celebrate the work of these talented female artists and all women who express themselves artistically.
www.mghdiscoveredart.com
***A portion of the proceeds of this show will be donated to TIME'S UP a legal defense fund so that all people can live free from sexual harassment and violence.