ESPRESSO
Espresso
Americano
Macchiato
Gibraltar
Cappuccino
Latte
Mocha
Shot in Dark 
COFFEE
House Drip
Pour Over
Cafe au Lait
Nitro Cold Brew 
CHOCOLATE
Dark Chocolate
Mexican Chocolate

OTHER BEVERAGES
DAILY ICED TEA
TEA LATTES
Matcha Latte
Chai Latte (black or rooibos)
HERBAL DRINKS
Flower Power Punch
Ginger Lemon Brew
Lavender Lemonade 
TONICS
Tonic Latte (clarity or vitality)
Kombucha
FERMENTED
Shannon Ridge Cabernet
Alma Rosa Chardonnay
Segura Viudas Sparkling Cava
Mimosa
Strawberry Shrub Cocktail 
DRAFT
SeaCoast Pils
Devotion Ale
Faction IPA
Golden State Cider
Zeal Kombucha
Nitro Cold Brew Coffee
TEA INFUSIONS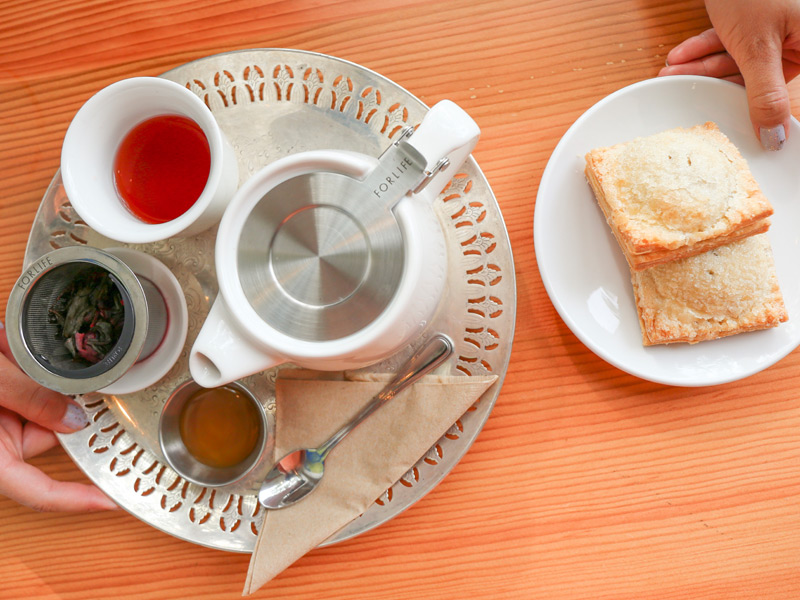 Black tea
BLACK LAVENDER
high-grown ceylon tea combined with english lavender creates an unusual interplay of fragrance and flavor.
EARL GREY
the classic blend of black teas enhanced with oil of bergamot. this favorite of so many tea drinkers will entice you with its heady scent
GOLDEN YUNNAN
from the mountain region of yunnan, china, this tea has a deep reddish-black infusion with a molasses-like sweetness and malt flavored finish.
VANESHEH PERSIAN BLACK
hand-rolled black tea grown on a small family farm in the province of gilan, iran. this fruity, bright and complex tea is a rare find.
BLOSSOM OOLONG
Sweet, nutty and tart with a distinct crimson hue from hibiscus flowers.
Green Tea
JASMINE GREEN
this classic china green tea scented with fragrant jasmine envelopes your senses with its sweet, floral bouquet.
GENMAICHA
japanese green tea with toasted brown rice. this delicious blend of green and grain complements any meal. our choice for an afternoon renewal.
JADE CLOUD
this bright, fresh green tea is grown in the pristine high mountain climate in hubei, china. spring harvests are crafted by pan-firing, oven baking, and hot-air roasting into a  lively and savory tea.
White Tea
WHITE PEONY
produced in fujian province of china, this tea has a unique bamboo fragrance and subtle nutty taste. this classic white tea is prized for its mild flavor as well as its low astringency and savory finish.
Pu-erh Tea
CLASSIC PU-ERH
earthy, rich and smooth, with comforting aroma of autumn leaves.
GINGER PU-ERH
zesty notes of orange, ginger & lemongrass complement the rich, earthy flavors of pu-erh and its soothing digestive properties. researchers in china report that pu-erh is the best of all teas for weight loss and cholesterol reduction.
Herbal infusions
MINTY
this refreshing blend of mints makes a great after-dinner or "tummy" tea. children love it with milk and honey.
PEACE
sit down, relax and sip this soothing brew- a mix of chamomile, lemon verbena, lavender and other calming herbs.
TURMERIC GINGER
sweet licorice root and zesty orange peel lend depth and structure to this remarkably intriguing and balanced herbal tea. the combination of turmeric and ginger is an ancient ayurvedic formula for longevity, stamina and circulation.
TULSI TONIC
a simple yet powerful blend of strengthening and nourishing herbs featuring india's beloved tulsi (holy basil). drink daily for full benefits of nervous and immune systems support.
YAUPON
smooth and robust flavor with a hint of natural sweetness. this lightly roasted north american native is rich with antioxidants and theobromine. contains caffeine.